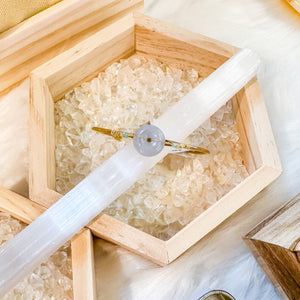 Made For You by Kaceique
KACESORY - Giada
Sale price Price $15.00 Regular price Unit price / per
Tax included.
Shipping
calculated at checkout.
• SIMPLY ELEGANT SERIES •

This piece of bracelet is simple yet elegant. With the hint of gold, the jade is no longer a traditional old fashion piece!

Gemstones: Jade (A grade), Yellow Opal, Amazonite
Material: Gold stainless steel
Jade
A sum me of serenity and purity
Signifies wisdom gathered in tranquility
Increase love and nurturing
Brings harmony and attracts good luck, weath and friendship
A protective stone and release negativity
Yellow Opal
Inspires joy and lightens the heart
A stone capable of instilling hope
Capable of attracting luck on the wearer
Enhance clarity and encourage a broader perspective of things
Opens new opportunities and enhance creativity
Amazonite
Associated with money, luck and overall success, encouraging good luck and fortune
Soothing effect on the nervous system
Calls on the spirit of inner strength, magnified intention and commitment
Used as a talisman of truth and hope
Every piece is hand-stringed, hence, may have difference.
Item is available for shipping worldwide.