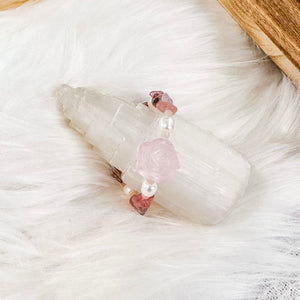 Made For You by Kaceique
KACESORY - Darosa
Sale price Price $58.90 Regular price Unit price / per
Tax included.
Shipping
calculated at checkout.
• UNIVERSAL LOVE •

"Dar" is another name for pearl; "Rosa" relates to rose. The combination of gemstones help one to boost the universal love and activates our heart chakra. With the raw shape of Strawberry Quartz, every piece is unique on its own. Fill yourself with the love of the Universe 💕

Gemstones: Rose Quartz, Strawberry Quartz, Pink Opal, Pearl
Rose Quartz
A stone of universal love
Restores trust and harmony in relationships, encouraging unconditional love
Purifies and opens the heart at all levels to promote love, self-love, friendship, deep inner healing and feelings of peace
Strawberry Quartz
Brings energies of universal love into your life
Help you to understand the very meaning behind your existence
Enable you to become spiritually centered
Assist in spiritual awakening
Clears negative vibrations and energies
Pink Opal
A stone of spiritual awakening
Activates and unlocks heart chakra
Imbues one's aura with calming, tranquil vibrations
Assists in self-healing of all levels and rejuvenates emotional body and aura
Every piece is hand-stringed, hence, may have difference.
Item is available for shipping worldwide.